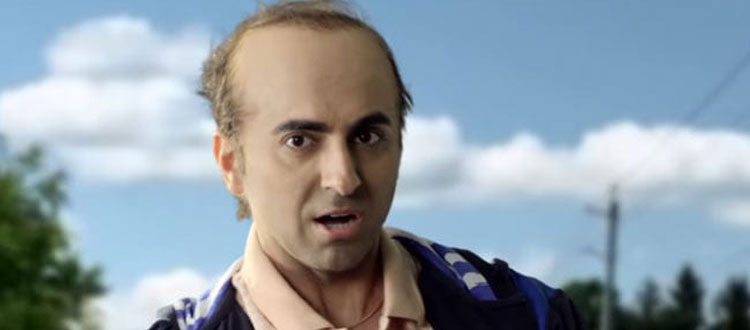 Hair Loss nahi … Identity Loss ho rah hai?
Hair loss nahi ..Identity Loss ho rahaa hai?
"Hair loss nahi…identity loss ho raha hai hamaara.." says @AyushmanKurana in the Movie @Bala.
As I watched the movie, what strike me most was how beautifully it has 'highlighted the lowness' of human self-esteem and 'ugliness' of identity crisis one can face.
Have you too experienced or know someone who has experienced the taboo of being too fat, too dark, too short or bald?. What are the parameters of beauty you have begin to consider are important to succeed in life?
Yes, you read it right .. 'begin to consider are important'
The core issue is, influences of life, at various times of growing up, forms layers of societal and environmental conditioning in your mind. This is where you undergo an unconscious process of learning and forming your superficial identity or false-self.  As a result, you begin operating from the superficial-self and lose touch with true-self.
Let's appreciate a simple fact that in your unique set of circumstances, when there are moments of crisis and decision-making moment, you have not been given a chance to learn a way to seek answers from your-self. Life and circumstances have continuously shaped your thoughts, ideas, beliefs and attitudes. And you have learned to reach to others and look at others to make decisions for you. Specially in the times when you feel helpless, you have learned to turn to others.
But unfortunately, most people you prefer to refer are no different than you. They too have 'grown up' but have not 'evolved' and 'developed' perhaps.
We can't stop growing. Growth being a natural process but 'developing' is choice one has to make. It is like if you throw a seed on the earth, it can grow into a plant. But 'nurturing and developing' it, to allow it to evolve and yield fruits is work of 'love' and 'care'.
Surrounded by people who themselves have gone through similar conditioning, it becomes hard to find anyone who can help you get in touch with core of your existence or wise-self.
So, what can be the solution?
Being able to consistently approach life situations and responding with wisdom can be achieved by adopting ancient practices such as 'mindfulness'. 'Being Mindful' means, being fully and effortlessly aware of 'something' in every possible sense. And being fully present to whatever are you experiencing in the present moment. Being here and know.
Just by spending there minutes a day, for six or seven times, total of about twenty-one minute can help you to re-configure the bio-chemistry of your brain and whole body.
Here is an easy to follow process to initiate yourself to practice of 'mindfulness'. First read all instructions and then follow.
Sit in a comfortable and distraction free environment.
Focus inside and turn your awareness around the heart-zone. You may close your eyes.
Think of someone or something you really love.
Allow the 'energy of love' to show up and increase, in the area around your heart.
Smile and become aware of energy of smile on your lips spreading on your entire face.
Become mindfully aware of 'breath, energy of love and energy of smile'.
Enjoy the moments as:
'Breathing in-I feel love – I smile'
'Breathing out-I feel the energy of love – I smile'
Let the energy of love intensify, seep out from every pore of your skin and surround you.
Rest in the 'energetic field of love' surrounding you for three minutes. Open your eyes.
Now think of the most burning issue or critical situation and ask, "What would I love to do in this situation?"
What is my heart's really directing me?
What is the wisest choice here, keeping in view my unique set of circumstances?
Or think, if I meet the wisest person whom I trust, what would this person advise me?
Or ask, what is the advice of my true inner-guru?
If this works for you, continue practicing this simple mindfulness until this becomes a way of your being. This will help you keep your 'self-esteem' high specially when the circumstances around you are trying to overtake you.
If you remember in the movie, it was sited that Krishna helped an ugly girl to turn beautiful. & what was the lesson @AyushmanKhurana sited in the end. Krishna helped the girl awaken to 'inner beauty and love', he didn't change her appearance.
When you recognise your 'beauty of being unique' and 'awaken as energy of love', you glorify your existence being human, and begin living in a supreme sate or a Guru State. It is then only others too appreciate you and glorify your contribution.
Note:
The InnerMost Shift Life Coach Training in Delhi, Executive Coach Training in Mumbai and Leadership coach training in India as imparted by Siri Khalsa ICF MCC and Sat Khalsa explore several of such concepts to address the human wholeness and beingness. You can reach to the author at info@achievethebest.com